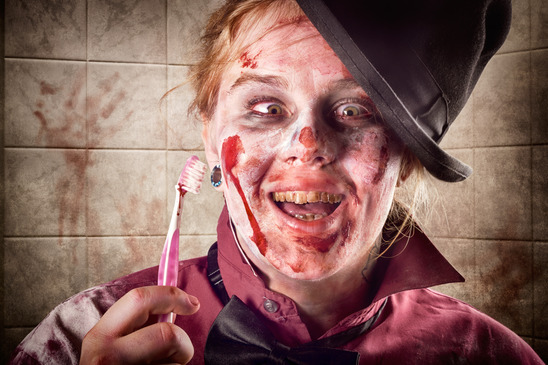 Halloween is always an exciting time of year for everyone to dress up and get creative with their costume. Zombie costumes are a common choice, which involve makeup, raggedy clothes, and rotting teeth. What you don't want, though, is for that look to last all year.
How to Prevent Zombie Mouth & Rotting Teeth
Double-Down! Brush two times per day
Floss your teeth daily
Eat fruits and vegetables instead of sugary snacks
Don't glue anything to your teeth
Visit your dentist at least twice a year, they start to miss you!
The most important part of the classic zombie costume is rotting teeth. The clothes can be upgraded and the makeup can be removed, but the real concern lies with your teeth. If you have actually lost your teeth, or they have started to decay, you may want to consider dental implants.
Dental Implants
A dental implant is a replacement tooth root that is just like a natural tooth root. It is secured in the jaw and isn't visible after surgery. This implant is connected directly to the jaw bone, which makes it easier to eat. Dental implants are made of titanium which makes them lightweight and durable. If you don't need an entire replacement tooth, the implant can also serve as support for crowns, bridges, and dentures.
Dental Implants improve your appearance, speech, comfort, eating, self-esteem, and oral health. Anyone healthy enough to undergo a dental extraction or surgery can be considered for a dental implant. You should have healthy gums and enough bone to hold the implant in place. This procedure is the positive solution you've searched for.

We Can Help!
At Walbridge Dental, we care about our patients. If you are seriously considering a dental implant, please schedule a consultation. At your consultation we will discuss options, financial considerations, and what works best for you. Please call us at 419-836-1033 or contact us online.
Get Social With Us: