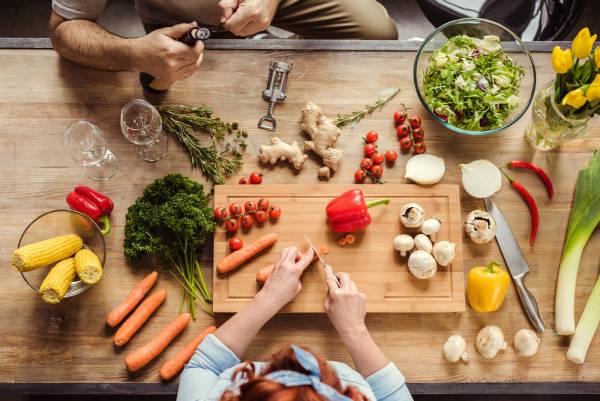 Your smile requires a lot of maintenance to preserve! But it's more than just brushing, flossing, and going to the dentist. Did you know that certain foods actually have a positive effect on your oral health? Your diet has a number of things associated with it that play a role in maintaining healthy teeth for life! To ensure your picture-perfect smile stays in top-notch condition all the time, it might be a good idea to whip up some healthy homemade treats that are great for your gums and teeth! The right foods not only leave you with a bright grin but can help prevent cavities, gum disease and other devastating dental issues.
Read on to find out about food for healthy teeth and gums, along with the benefits these foods can bring!
Why Healthy Gums Matter!
While most people think of gum disease as a cosmetic problem, it actually can cause other serious health problems, not the least of which is heart disease. Gum disease has been linked to the buildup of plaque, a sticky film of bacteria that forms on teeth, and can lead to inflammation of the gums, called gingivitis. Left untreated, gingivitis can cause bone and tissue loss around the teeth and eventually tooth loss as well as other problems. Tooth decay, or cavities, is another condition that can be blamed on poor oral hygiene. Poor dental health can even lead to other systemic conditions like diabetes and cardiovascular disease. It's no wonder that many people are now considering their diet to be a factor in oral health.
How Your Diet Affects Your Teeth and Gums
A good diet is essential for maintaining healthy gums and teeth. Eating a balanced diet rich in nutrients helps to keep your gums and teeth healthy and strong. Here are some ways that the nutrients you consume impact your overall oral health:
Calcium
It's no secret that calcium is good for our bodies. And you may even know that calcium is directly beneficial for your teeth! But do you know how? Calcium is a mineral that, when absorbed by your body, is used to supplement teeth (and your bones!) Your body uses the calcium to strengthen the enamel around your teeth. This enamel surface is critical for long-term oral health. It's the first line of defense against bacteria. Stronger enamel makes it more likely that bacteria will be brushed or washed away before it has a chance to penetrate into the core of your tooth, where it begins to form cavities.
Vitamin C
We hear a lot about vitamin C. It's a popular one for general health – and one of the more commonly supplemented vitamins in our diets for those who think they aren't getting enough. Consuming vitamin C critically improves the health of your body's soft tissue – including your gums! But that's not all, your tongue, cheeks and lips are all soft tissue as well. The healthier these parts of your body are, the more easily they can defend against bacteria and gingivitis.
Having deficient vitamin C intake can cause issues like receding gums. When this happens, more of your tooth is exposed, which makes it more likely for bacteria to get a foothold in your dental biome. This makes it harder to keep your mouth clean, and is a fast track towards issues like periodontal disease and severe cavities.
Vitamin A
Another core vitamin for your dental health is vitamin A. Benefits of adequate vitamin A consumption primarily come from saliva production. With insufficient vitamin A, your body may suffer in its ability to make saliva.
Why does that matter? For healthy teeth and gums, saliva is absolutely critical! While you may think of tooth enamel as a wall, saliva is like the custodian that cleans that wall up. Without saliva, bacteria in your mouth would stick around until you brushed, flossed, or consumed food that knocked it loose. Your body is constantly producing saliva in your mouth in small amounts, which you often swallow without even thinking about it. But this activity takes bacteria from your teeth or gums and washes it down into your digestive system where your body can kill and remove it more easily.
Foods That Promote Healthy Teeth & Gums
If you're looking for foods that will directly benefit your oral health, we have a great list of options to choose from!
Calcium:
Milk
Cheese
Yogurt
Broccoli
Keep in mind that calcium needs phosphorus in your diet to be absorbed. Fortunately, many sources of calcium are also good sources of phosphorus!
Vitamin C:
Citrus Fruits
Kale
Bell peppers
Tomatoes
Vitamin A
Sweet potatoes
Carrots
Leafy greens
Eggs
Fish oils

Contact Walbridge Dental
Want to know more about teeth whitening methods and find out the best one for you? The professionals at Walbridge Dental have the answers. From routine cleaning and exams to advanced restorative treatments, we offer complete family dental care to families in the Millbury community. Contact us online to set up an appointment now or call us at 419-836-1033.
Connect on Social Media!