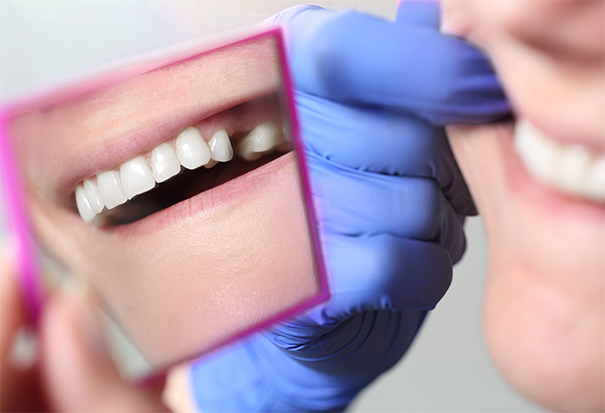 If you're missing a tooth, modern dental techniques and technology offers several options for completing your smile. Two of the most popular are dental implants and bridges; both fill in the gaps with a durable, natural-looking tooth, but do it in very different ways. Which would be best for you? Learn more about both procedures (we'll cover many of the details here), then talk to your dentist.
What is a Dental Bridge?
A bridge is a dental appliance that holds a prosthetic tooth (called a pontic) in place by anchoring it to the neighboring teeth. Pontics can be made from gold, alloys, porcelain, or a combination of these materials, and are supported by natural teeth or implants. Bridges can be fixed (permanent) or removable, but for the purpose of this blog, we'll focus on fixed dental bridges.
There are three main types of dental bridges:
Traditional bridges – These bridges require creating a crown for the tooth or a dental implant on either side of the missing tooth; the pontic is suspended in between. Traditional bridges are the most common type of bridge and are made of either porcelain fused to metal or ceramics.
Maryland bridges (also called a resin-bonded bridges) – These bridges are made of porcelain, porcelain fused to metal, or plastic teeth and gums supported by a metal or porcelain framework. Metal or porcelain wings (on just one or both sides of the bridge) are bonded to your existing teeth.
Cantilever bridges – The least-common kind of bridge, cantilever bridges are used when there are adjacent teeth on only one side of the missing tooth. they're not recommended for the back of the mouth because they can put too much force on the other teeth.
What's Involved in Getting a Dental Bridge?
The procedure for getting a bridge is a multi-step process that takes more than one visit to the dentist. First, the dentist injects a local anesthetic into the gum tissue surrounding the tooth next to the bridge. Then he or she reshapes the teeth that will house the crowns, either by filing down sections of the tooth or filling them. These crowns need to fit securely to hold the bridge in place.
When the teeth have been reshaped, an impression of the missing tooth and the surrounding teeth are made. This impression is sent to a laboratory, which will custom make the bridge. Until the permanent bridge is ready, you'll be fitted with a temporary bridge, secured by cement to fill the gap. The permanent bridge should arrive at your dentist's office within a few weeks; then you'll go in for a final fitting and placement.
Pros and Cons of Dental Bridges.
The Pros – Dental bridges will give you the smile you want at a cost-effective price, compared to dental implants. They're functional, reliable, and predictable. Bridges may be covered in part by some dental insurance plans; most insurance plans will not cover implants. Plus, because only minimally invasive dental procedures (tooth filing and reshaping) are required, no healing time is needed and the full procedure will require less time than an implant.
The Cons – Fitting a bridge usually requires removing enamel from the adjacent teeth, which can lead to in increased chance of tooth decay. If the adjacent teeth have existing crowns, they must be remade to accommodate the bridge. In addition, there is a greater chance for developing gum disease or need root canal treatment if the nerves in the teeth are affected by the procedure. Routine care for bridges is a bit more involved than with implants – you'll need special devices for removing plaque (much like braces). Finally, bridges don't last as long as implants. Expect that you'll have to replace them 10 years.
What is a Dental Implant?
Dental implants are what their name implies. They're implanted into your jawbone, acting as replacement tooth roots for a cap or crown. They're made of titanium, a material that is compatible with our bodies and can create a strong, sturdy foundation for replacement teeth. After the implant has been set in place, the jaw bone locks the implant into place by fusing to it, giving replacement teeth the stability and strength to withstand normal daily use and function like regular teeth.
What's Involved in Getting a Dental Implant?
The first step in getting a dental implant is developing an individual treatment plan. The plan addresses your specific needs and provides care based on the treatment option best for you.
Next, the tooth root implant is placed into the bone socket of the missing tooth. As the jawbone heals, it grows around the implanted metal post, anchoring it securely in the jaw. The healing process can take from 6 to 12 weeks.
Once the implant has bonded to the jawbone, a small connector called an abutment is attached to the post to securely hold the crown. Then your dentist makes impressions of your teeth and creates a model of your bite, which he or she will use to make the crown. The crown will secure to the abutment and blend in with your natural teeth.
Pros and Cons of Dental Implants.
The Pros – Dental implants are as functional, predictable, and reliable as dental bridges. Esthetically, they'll look like your natural teeth and because they're implanted into your jaw, they'll feel and function just like them, too. Getting a dental implant will not affect your adjacent teeth, so you won't be at a higher risk for tooth decay or gum disease. And you care for implants exactly as you would for your natural teeth – no specially flossing tools needed!
The Cons – Dental implants are more expensive than bridges (often double of what a bridge would be). Not only that, they're usually not covered by dental insurance. Getting an implant requires minor surgery, so there is additional time involved in getting this procedure (6-12 weeks). But they have a significantly longer lifespan than bridges – typically 15 years.
Contact Walbridge Dental
Thinking about a dental bridge or implant? From routine cleaning and exams to advanced restorative treatments to oral cancer detection, the professionals at Walbridge Dental provide complete family dental care to families in the Millbury community. Contact us online to set up an appointment now or call us at 419-836-1033.
Connect on Social Media!