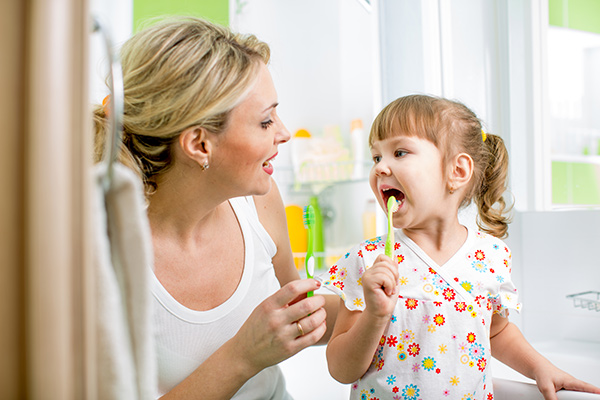 It's not always easy to keep your teeth clean. Food particles, bacteria and plaque are hard to spot, particularly in the deeper corners of the mouth. That's why it's critical for parents to teach their children healthy brushing habits. One clever way to get your child focused on proper brushing is using fun and engaging smartphone apps that teach good habits. We've found the four best dental apps for educating your family about the proper ways to brush – read on and find the one that you think will work best for your son or daughter!
The award-winning Brush DJ can easily be considered one of the best dental apps available today. In addition to being completely free, its robust list of features and simple interface make it a great choice to help your child keep their teeth clean.
The primary feature of Brush DJ is its brush timer that uses your choice of music. The timer will play a selection of your favorite music for a full two minutes, which is the brushing time recommended by dental care professionals. It's common for people to overestimate how long they brush their teeth, which leads to inadequate brushing. When you use Brush DJ, you have a clear indicator of how long you brush for, which makes sure you can keep your teeth cavity-free.
But that's only part of what makes Brush DJ such a popular dental app. It also has a wealth of other useful features, such as:
Overall, Brush DJ is a great app to ensure you or your child maintain perfect dental health. This dental app is not only free, but it doesn't contain any in-app purchases or ads – so you can let even your young children play with it worry-free!
It's not unusual for your child to be less than enthusiastic about brushing their teeth. It can feel like a chore! That's where Chomper Chums steps in. Your child is rewarded for brushing their teeth by avoiding cavities and having a sparkling smile. But that's sometimes too subtle of a reward for them to appreciate.
Chomper Chums lets you pick from one of three animated animal friends. As you brush your teeth with the app's timer, you earn coins that you use to purchase food for your new animated chums. The app encourages you to make healthy choices for your friends. The foods you select, from healthy vegetables to sugary snacks, influence the animal characters positively or negatively.
Chomper Chums is more than a game – it's a helpful educational app too! It shows your child the proper ways to brush, floss and rinse their mouths. For younger children that need guidance on proper brushing, Chomper Chums helps make sure they get the most out of their two minutes of brushing.
It's surprisingly common for those that brush twice a day to still have cavities and to develop mild gum disease. How? Through improper brushing technique! Even if you brush for the recommended two minutes, it's possible that you're missing key surfaces in your mouth or aren't brushing with the right amount of pressure. Too hard can damage your teeth and gums, while too soft can be inadequate for removing tough plaque.
Brush Up helps solve the problem of poor brushing technique. Your child can follow along as Budd, the Toothbrush Tutor cleans his teeth at all angles. At the same time, you can opt into a self-assessment on screen, allowing for children to see if they're following along correctly using the front camera on your phone. Early research shows that Brush Up can help specifically remind children to brush the interior surfaces of their teeth – an area often ignored.
Budd also rewards your child with virtual prizes for consistent, quality brushing. Between the education and motivation from Brush Up, it promotes healthy dental hygiene for children of all ages.
There's no secret that smartphone games can be magnetic to a child's attention. If your kids love to play games, why not one that subtly helps encourage good dental care? Toothsavers is a fun game developed by the Partnership for Healthy Mouths, Healthy lives. It's one of the best dental apps available for combining fun games with educational resources.
Toothsavers features 10 unique characters that need help to keep their teeth clean. Children swipe and tap to remove food particles from their cartoonish mouths. Like most apps, it encourages users to focus on the importance of brushing for two whole minutes.
Additionally, children can brush along with Toothsavers. Fun animations keep children engaged and focused on thorough, effective brushing. The interactive map lets you chart every morning and evening brush. Parents can monitor their child's brushing and even designate specific times for dental care to aid children in developing healthy habits.
Contact Walbridge Dental
We can help make sure you and your family are brushing correctly. If you're concerned or just looking for information, the professionals at Walbridge Dental provide complete family dental care to families in the Millbury community. Contact us online to set up an appointment now or call us at 419-836-1033.
Connect on Social Media!