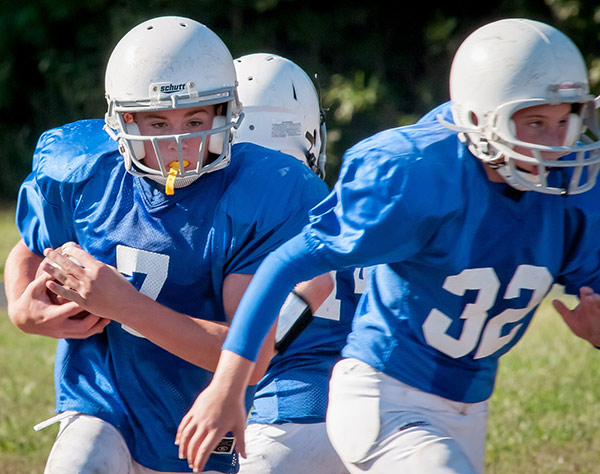 Gum disease and tooth decay aren't the only ways to cause damage to your natural smile. Accidents and injuries to the mouth are common – especially for athletes. The best way to prevent tooth loss and other damage to your mouth is with the use of a sports guard. With three major categories of sports guard available, which type is best? And what kind of protection do they really offer? Learn more about sports guards and how they keep your smile looking it best!
Why Are Sports Guards Necessary for Safety?
Injuries to your mouth can be more severe than typical sports injuries. A scraped knee will heal, but a lost tooth could be lost forever. That's why it's crucial to wear mouth guards during any athletic activity – even if it's non-contact! In fact, basketball is the sport with the highest injury rate for dental trauma. Part of this is because basketball players often don't wear mouth guards; football players were five times less likely to experience dental injuries in this same study due to mandatory mouth guard usage. So, it's important to remember that any activity can be a risk to your teeth or gums. Falling down happens in every sport – and if you land with impact to your unprotected mouth, there's a high chance of dental trauma.
The three most common types of tooth injury in sports are:
Fractured Roots
Tooth Intrusion
Cracked Teeth
While the severity of cracked teeth can range dramatically, fractured roots and tooth intrusions are typically emergency situations that require immediate attention. A root canal is often necessary to correct these injuries. Even with attentive care, you can permanently lose teeth due to injuries like these.
What Types of Sports Guards Are There?
Mouth guards for athletes come in three distinct categories. These categories can be tiered in terms of cost and effectiveness; the cheapest options typically offer the least amount of protection:
Stock Sports Guards
These types of mouth guards are very inexpensive and can be purchased at almost any sporting goods store. Due to their stock shape which doesn't conform to your unique bite, they offer little to no genuine protection. Additionally, the wearer often has to apply at least some bite pressure to keep them in place. This can make it difficult to breathe and speak.
You should avoid stock sports guards whenever possible. While they are better than no protection at all, they perform far worse than the other two types of sports guards available.
Mouth-Formed Sports Guard
There are two types of mouth-formed sports guards: boil-and-bite guards or shell-liner guards. Boil-and-bite guards are one of the most commonly used solutions for mouth protection. Made from a special thermoplastic material, they can be molded to your teeth for a tighter fit. Because they take the shape of your bite, they are much more comfortable to wear and can offer better protection. However, their flexibility makes them more susceptible to wear-and-tear from use, and they often need replacing.
Shell-liner sports guards are made by pouring an acrylic material into an outer shell, where it forms a thick lining. You then place them into your mouth to allow them to take shape and set. Like the boil-and-bite sports guards, these offer a more comfortable fit and more protection than stock mouth guards.
Mouth-formed sports guards are the "middle-ground" option for athletes. They're also the most commonly-used guards for their comfort and protection. Like stock guards, you can find these at most sporting-goods stores.
Custom Sports Guards
Recommended by dentists, custom-crafted sports guards are the best option for protecting your mouth and gums. The materials used to make them varies, but each guard is designed by making a custom cast of your mouth to create a perfect fit. Because they're form-fitted to your mouth, they offer the highest level of comfort and protection.
Another benefit of custom-fitted guards is that your dentist will be able to make critical assessments based on the sport being played. This may factor into the material used to help guarantee the best protection available – an extra step not available with store-bought mouth guards. Whenever possible, custom-designed sports guards should be used over other options.
How Do I Take Care of My Sports Guard?
Your sports guard protects you from injury – but you need to protect it from bacteria. As they spend a lot of time in your mouth, the same bacteria that spreads on your teeth will spread to the mouth guard. Rinse and scrub it, ideally with a soft brush. You can use a child's toothbrush, but a towel or regular toothbrush can work just as well. The important thing is to clean the entire surface to remove bacteria and food particles.
When you're finished scrubbing, air it out. Higher quality sports guards often come with a carrying case that allows air flow. Don't store them in a perfectly sealed container. Moisture can help bacteria thrive, so ensure that it's thoroughly dried and stored somewhere that fresh can reach. The same is true for keeping your toothbrush clean, too!
Remember, you need to clean your sports guard after every use. Even if you only wore it for a few minutes. It doesn't take long for dental plaque and debris will spread to its surface.
Schedule an Appointment
If you want to keep your teeth and gums healthy, the professionals at Walbridge Dental provide complete family dental care to families in the Millbury community. Contact us online to set up an appointment now or call us at 419-836-1033.
Connect on Social Media!