When you're in the toothbrush aisle at the grocery store, you probably don't put a whole lot of thought into which toothbrush to choose. You might figure if it has bristles and a handle, it will get the job done. But, you may not realize that there are actually a lot of different toothbrush types and styles to choose from. Here, we will walk you through the qualities to look for in a toothbrush that's perfect for you.
Size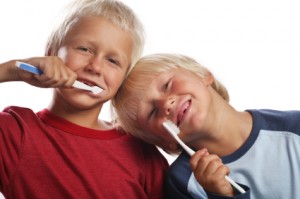 It's pretty obvious that children should use a smaller sized toothbrush than adults, but did you know that toothbrushes come in sizes other than "small" and "large"? It's true! When shopping for a new toothbrush, keep in mind the head size.
Toothbrushes are available with a variety of head sizes. The smaller the head, the easier it is to reach all areas of your mouth and ensure that all teeth are thoroughly cleaned. However, you don't want to choose a toothbrush that's too small, or it won't have enough bristles to get the job done!
What's the average toothbrush size? The average size of an adult toothbrush head is about a half inch wide and one inch tall.
Tip: Check to make sure to choose your toothbrush handle is also the right size – it should feel comfortable in your hand.
Bristles
When it comes to choosing a toothbrush, you have to consider the bristles! Your choices include soft, medium, or hard bristles.
Not sure which type of bristles you should select? Consider your brushing habits. If you're a vigorous brusher and put a lot of pressure on your teeth while you brush, we recommend that you use a soft- or medium-bristled toothbrush. It's okay to choose a hard-bristled toothbrush, but don't brush too hard: you may irritate your gums or damage your tooth enamel.
Tip: Soft bristles are the ideal choice to remove plaque from teeth and are definitely recommended for children.
Manual versus Electric Toothbrushes
Electric toothbrushes are widely available now, but it's completely your choice whether you use a manual or electric toothbrush. You can achieve healthy teeth and gums no matter which type you use – it's far more important that you brush consistently! For the best dental hygiene, you should brush for two minutes, two times a day, no matter what toothbrush type you use.
Do electric toothbrushes have an advantage? They simulate a brushing motion without any human effort, which is excellent for people don't have the dexterity to brush as well as they would like to (such as children or people with arthritis). In the end, it doesn't matter if you choose a manual toothbrush or an electric toothbrush; the secret to healthy teeth and gums is to brush daily!
Tip: Choose a toothbrush that you enjoy using, because you're more likely to use it!
About Walbridge Dental
Doctors Matt and Jody Freytag take great pride in providing their patients with complete dental care. At Walbridge Dental, located in Millbury, Ohio, patients can expect to receive the most comprehensive, family-friendly service in town. Contact Walbridge Dental to schedule an appointment today!
Connect with Us!