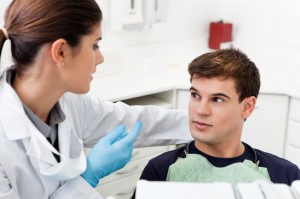 If you're not confident with your smile, you're not alone. A study by the American Association of Orthodontists revealed that more than 33 percent of adults are unhappy with their smile. The good news is that you're not stuck with your imperfect smile! There are several procedures that we can do here at Walbridge Dental to help reshape your natural teeth and correct any dental imperfections.
Tooth Contouring
Tooth contouring or reshaping is a cosmetic procedure in which the dentist uses a drill to remove part of the tooth enamel. Typically tooth contouring is used to correct small imperfections in teeth because even the smallest adjustments can make a big difference in your smile. Once the desired enamel is removed, the tooth is coated with polish for a smooth finish. Tooth contouring is a relatively quick and painless process, as the enamel is not connected to any nerves.
Cosmetic Bonding
To make the teeth longer or wider, the dentist may need to complete a dental bonding procedure in which a tooth-colored resin material is applied to the teeth. The material is hardened with an ultraviolet light and the dentist can go back to using the drill to structure the tooth into the desired shape. This process typically takes around 30 minutes to complete.
About Walbridge Dental
To learn more about our tooth contouring procedures, or to set up an appointment, give Walbridge Dental a call. Located in Millbury, Ohio, Walbridge Dental provides a wide range of services including cleanings, fillings, implants, crowns, root canals, and more. Get in touch with us today to learn how we can best serve you and your dental needs!
Phone: (419) 836-1033
Email: walbridgedental@sbcglobal.net
Connect on Social Media!