While humans have been using tools for oral health for thousands of years, the trusty toothbrush you're familiar with was invented in the 1930s. It may still be an effective design today, but that doesn't mean it can't be improved. Electric toothbrushes are the more modern version – but are there real benefits of an electric toothbrush or is it simply a tool of convenience?
Read on to learn how you could benefit from switching to an electric toothbrush.
Key Benefits of an Electric Toothbrush
Easy to Use
One of the most popular benefits of an electric toothbrush is that it makes brushing easier. For younger children that aren't well-versed in brushing, or those who have limited dexterity, electric toothbrushes can simplify the process.
The whirling bristles eliminate all need for the "sawing" motion of manual brushes. This results in an effortless task – making you more likely to build a healthy brushing habit for a lifetime.
They even make it easier to brush your tongue, which is a common way to help reduce bad breath.
They Often Help with Timing
Do you know how long you're supposed to brush your teeth? Simply running a toothbrush across every tooth isn't enough – so there's no such thing as "speed brushing." You should be taking a full two minutes to brush, once in the morning and once in the evening.
Almost every electric toothbrush includes some type of timing indicator that lets you know when you've reached the two-minute mark. Some models even give you small vibrations every 30 seconds so you can ensure that you brush every section of your mouth equally.
More Effective Cleaning
In most cases, you'll find that using an electric toothbrush does offer a better clean than manual ones. Research has shown that certain types of oscillating electric brushes can clean plaque better than manual toothbrushes.
This means you'll be able to show off whiter teeth, and your mouth will exhibit the signs of good dental health.
They Make Brushing Less Technical
While you may not consider brushing to be a particular challenging chore, it's common for people to brush incorrectly. There are several ways for you to undermine the benefits of brushing:
Brushing too hard
Brushing too soft
Passing over surfaces of your teeth
With manual brushes, the back-and-forth motion combined with the pressure you have to apply varies as you brush. This can lead to uneven brushing, which gives plaque a chance to develop.
Electric toothbrushes only require you to slowly sweep the bristles across your teeth as it does all the work. This makes it less likely for you to miss surfaces or use too little or too much pressure.
Flexible Options
Manufacturers for electric toothbrushes often offer different types of heads to help you brush in a way that's optimal for your oral health. In addition to standard brushes, you can also find specialized heads like interproximal brushes that help you clean hard-to-reach places, or around dental work.
Potential Downsides of Electric Toothbrushes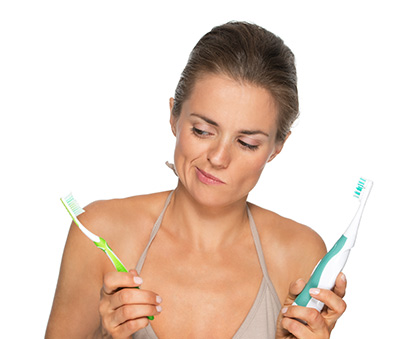 More Expensive
It comes as no surprise that electric toothbrushes are more expensive than manual ones. And while you won't need to replace the entire toothbrush, electric toothbrushes still require you to replace the head just as frequently as you would a manual one.
New Difficulties for Travel
You charge your electric toothbrush on a stand that needs to be plugged into an outlet. When you travel, the stand and cords need to come with you. On top of that, electric toothbrushes are bigger and bulkier.
If you travel a lot, you may find the simplicity of a manual toothbrush makes more sense. Plus, if you lose a manual toothbrush on the road, it's far less likely to make you stress than losing your expensive electric one!
Do You Need an Electric Toothbrush to Keep Your Teeth Clean?
Absolutely not! While the benefits of an electric toothbrush make them popular with patients and dentists alike, they're not necessary. With proper brushing, flossing and regular visits to your dentist, you can keep your teeth sparkling with a traditional manual toothbrush too.
It's likely that most people will find electric toothbrushes helpful to improve their oral health. However, if you have cavity-free teeth already, you can keep using your manual toothbrush without worrying!

Contact Walbridge Dental
We can help make sure you and your family are brushing correctly. If you're concerned or just looking for information, the professionals at Walbridge Dental provide complete family dental care to families in the Millbury community. Contact us online to set up an appointment now or call us at 419-836-1033.
Connect on Social Media!