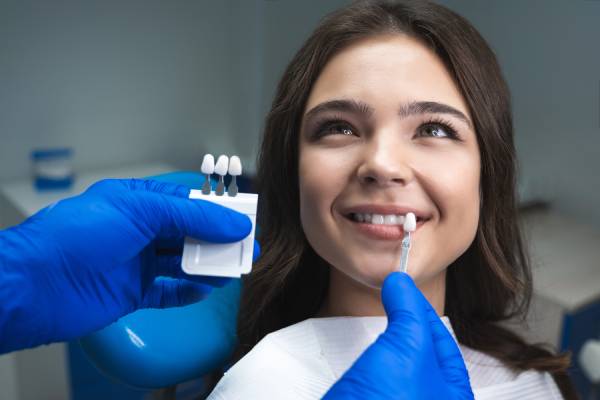 Are you concerned about stained, misaligned, or uneven teeth? Interested in improving your smile and your confidence? Cosmetic Veneers might be just the thing for you!
What are Cosmetic Veneers?
Cosmetic veneers, also known as dental veneers, are thin shells made of porcelain or composite resin that are custom-made to fit over your natural tooth's enamel. They provide strength and resilience to your teeth and are often the material of choice for those looking to make small alterations in tooth shape, size, or color.
Benefits of Cosmetic Veneers
Cosmetic veneers can make your smile brighter and is especially effective for those who have not responded well to whitening or bleaching. Cosmetic veneers can correct issues such as:
• Darkly stained teeth
• Tooth discoloration
• Pronounced spaces between teeth
• Teeth misalignment
• Noticeable differences in teeth sizes, shapes, or colors
• Chipped or broken teeth
• Worn down teeth
The Process for Dental Veneers
Thinking of getting veneers for yourself? We can help! The overall journey to get a nicer smile is quite simple.
The process of getting dental veneers typically includes:
Consultation: During the initial consultation, you will discuss your concerns and goals with your dentist or cosmetic dentist. They will examine your teeth, take X-rays and impressions, and determine if veneers are a suitable option for you.
Tooth Preparation: If veneers are deemed appropriate, your dentist will prepare your teeth by removing a small amount of enamel from the surface of the teeth to make room for the veneers. This is typically done under local anesthesia.
Impression: Once the teeth are prepared, your dentist will take an impression of your teeth, which will be sent to a dental laboratory where your custom veneers will be made.
Temporary Veneers: While your veneers are being fabricated, your dentist will place temporary veneers to protect your teeth and maintain your appearance.
Veneer Placement: Once your custom veneers are ready, your dentist will remove the temporary veneers and place the permanent ones using dental cement. The veneers will be adjusted and shaped as necessary to ensure a proper fit and natural appearance.
Follow–up: After the veneers are placed, your dentist will schedule a follow-up appointment to check the fit and function of the veneers and ensure that you are satisfied with the results.
How to Care for Cosmetic Veneers
Another benefit to cosmetic veneers is, as long as they are properly cared for, they last several years. Taking care of your veneers is similar to how you would care for your original teeth, with twice-daily brushing and regular flossing.
In addition to standard oral care, you will also need to keep your one-week post placement appointment, which is vital the future health of your veneers. During this appointment, your dentist will evaluate your veneers and see how your mouth is responding to them. If you have a habit of grinding or clenching your teeth, your dentist may also fit you with a nighttime bite guard to help you avoid damaging your new veneers. You will also need to return for regular professional maintenance, which will include polishing your veneers with a specially formulated non-abrasive paste.
Contact Walbridge Dental
Thinking about improving your smile with veneers? From routine cleaning and exams to advanced restorative treatments to oral cancer detection, the professionals at Walbridge Dental provide complete family dental care to families in the Millbury community. Contact us online to set up an appointment now or call us at 419-836-1033.
Connect on Social Media!