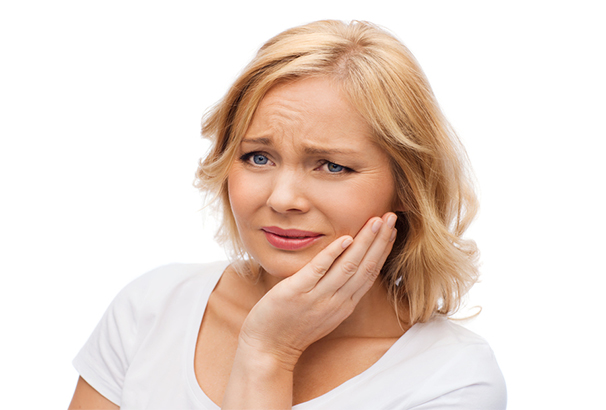 The holidays are fast approaching, which can mean a lot of planning and preparation, along with the seasonal cheer. For many, the added energy and activities this time of year can bring on higher levels of stress. Doctors have told us for years that stress can lead to medical conditions, such as high blood pressure. But did you know they can bring on dental issues as well? Beyond teeth grinding, stress can cause multiple problems in your teeth, jaws, and mouth. While some of these problems are little more than a temporary nuisance, some can ultimately result in tooth damage or bone loss.
Stress Can Be More than Just a Pain in the Jaw
We've all done it – clenched our jaw in the face of a stressful situation. It's a typical short-term reaction to an unpleasant experience, and it usually leaves us with little more than a lingering headache. But long-term, untreated stress can lead to serious dental health problems such as:
TMD – TMD, or temporomandibular joint disorder, is condition in which the "hinge" which connects the upper and lower jaw isn't working as it should. (This hinge is one of the most complex joints in the body, responsible for moving the lower jaw forward, backward and side-to-side.) TMJ often occurs when the jaw is clenched for prolonged periods of time. Some of the most common symptoms are headaches, jaw pain, and tenderness in muscles of the jaw. Teeth grinding – also known as bruxism, teeth grinding happens most often at night as we subconsciously attempt to handle stress, but it can happen during waking hours, too. Not only can bruxism lead to jaw pain, headache, or tooth sensitivity pain, it can wear down your enamel and leave your teeth vulnerable to decay. Bruxism can also damage work such as crowns and veneers.
Nail biting – another stress-induced behavior – can have similar consequences.
Stress can also weaken your immune system, leaving your mouth vulnerable to:
Canker sores – Canker sores may be harmless, but they're certainly not painless. Researchers haven't yet found the exact correlation between canker sores and stress, but there is a great deal of circumstantial evidence given that the sores tend to surface during times of stress.
Lichen Planus – Lichen planus is an inflammatory condition that can affect the skin, hair, nails and mucous membranes, including those in your mouth. It is characterized by white lines, sores, and ulcers in the oral cavity. It is an autoimmune disorder which occurs when the immune system mistakenly attacks cells of the skin or mucous membranes. Some experts believe lichen planus is a reaction to viral infections caused by stress.
Gum disease – If your immune system can't fight off the bacteria present in your mouth, it could lead to gum disease, which could eventually result in bone and tooth loss. Couple that with the fact that when we're under stress, we tend to indulge in unhealthy foods or habits, and the stage is set for dental disaster.
Then there are other less common, but still painful and potentially damaging dental conditions that may be caused by stress:
Dry mouth – Dry mouth doesn't seem like it should be an alarming condition. But it can eventually lead to tooth decay and serious periodontal disease. Saliva is your mouth's first defense against bacteria; when your body isn't producing enough saliva to wash it away, the bacterial will stick to your teeth and start to eat away at the enamel, causing decay. Dry mouth can be caused by stress, but it can also be caused by medications taken for depression.
Burning Mouth Syndrome – Psychological problems including stress are just one of the many factors known to cause Burning Mouth Syndrome, which is identified by a burning sensation on the tongue, lips, gums or palate. The pain, which can be constant or intermittent, can last for months or even years.
How Can You Manage Stress?
There are some simple, but very effective, techniques for managing stress which involve implementing healthy habits and positive lifestyle changes into your daily routine:
Take a time-out – Practice yoga, listen to music, meditate, or make the time to enjoy your favorite hobby.
Eat well-balanced meals – Keep healthy, energy-boosting snacks on hand.
Limit alcohol and caffeine – These can aggravate stress and anxiety.
Get enough sleep – When stressed, your body needs additional sleep and rest.
Exercise daily – You'll feel good and maintain your overall health.
Get involved – Volunteer or find another way to be active in your community, which creates a support network and gives you a break from everyday stressful routines.
It's also important to talk to your medical professionals – doctors, dentists, and mental health specialists – about your stress and how to handle it.
For dental problems, such as bruxism or TMD, talk to your dentist about mouth guards. If you're experiencing canker sores or lichen planus, consider adding vitamin supplements, like B-12, calcium, or folic acid to your diet. If dry mouth is an issue, make sure you're getting plenty of water; you can also talk to your dental professional about mouth rinses which can alleviate the problem.
Contact Walbridge Dental
Is stress affecting your dental health? We can help. From routine cleaning and exams to advanced restorative treatments to oral cancer detection, the professionals at Walbridge Dental provide complete family dental care to families in the Millbury community. Contact us online to set up an appointment now or call us at 419-836-1033.