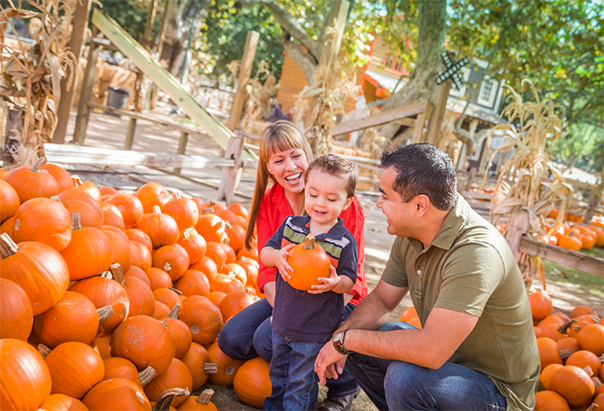 Fall is finally here – and there are plenty of ways to go out and celebrate the season, especially around our area. If you can't get enough of falling leaves, cider, and pumpkin-spiced everything, we've got five fun fall things to do near Toledo, Ohio, that are sure to make you smile!
Orchard Fun & Pumpkin Picking
From cider and donuts, to hayrides and haunts, you'd be hard-pressed to find a more enjoyable way to spend a fall afternoon than at one of our area orchards. Two of the favorites in our area – MacQueen's Apple Orchard and Erie Orchards – also host special events and festivals along with their regular seasonal activities!
If picking the perfect pumpkin is high on your fall priority list, you have plenty of destination choices. Local farm markets and roadside stands are bursting with those beautiful gourds this time of year, but if you want to experience maximum pumpkin exposure, carve out some time to visit Fleitz Pumpkin Farm or the Trabbic Family Pumpkin Farm.
Corn Mazes
On your mark…get set…get lost – in a corn maze, that is! Our region is teeming with corn mazes this year, and not your run-of-the-mill corn mazes. You can try to find your way out of mazes inspired by college logos, Halloween motifs, construction equipment, and even Toledo celebrity, Crystal Bowersox! Bring along a good pair of walking shoes and a taste for adventure – a good sense of direction won't hurt, either.
Ghost Walks
Like your fall fun on the spooky side? Enjoy a ghost walk! Providence Metropark is sponsoring a Ghosts of Providence Lantern Walk. Meet characters from long ago that dwell in the ghost town of Providence on this lantern lit evening walk through the region's most unique historic park. (Note: This program is not recommended for children under five.)
There's also the Garrison Ghost Walk at historic Fort Meigs – the site of key military battles in The War of 1812. Staff, volunteers, and visitors alike have reported experiencing strange lights, sounds, and even ghostly apparitions of soldiers while at the fort, making it a chilling way to experience real history.
Halloweekends
If you like thrills as well as chills, you won't want to miss Cedar Point's Halloweekends! Along with the regular rides, you can enjoy mazes, scare zones, spooktacular shows, and eerie (or is that Erie?) events – if you dare!
Trick or Treat on the Wild Side
The Toledo Zoo is once again holding its Pumpkin Path and Little Boo at the Zoo events for area children. In addition to costumed trick or treating, there will also be games, artistic pumpkin carving demonstrations, bounce houses, and magic shows to entertain all the ghosts and goblins!
Toledo Glass Pavilion Birthday Celebration
The Toledo Museum of Art is hosting a 10th birthday party for its Glass Pavilion. The event will feature hands-on art activities, a screening of the movie Ratatouille, birthday cake, music, a beer and wine garden, architectural tours of the Glass Pavilion, food trucks, and a farmers' market.
Have fun, but keep your teeth healthy!
There are all kinds of tasty treats to enjoy this season. But remember to keep your teeth healthy with proper brushing and flossing, or the outcome of your next checkup could be downright scary.
Contact Walbridge Dental
From routine cleaning and exams to advanced restorative treatments, we offer complete family dental care to families in the Millbury community. Contact us online to set up an appointment now or call us at 419-836-1033.