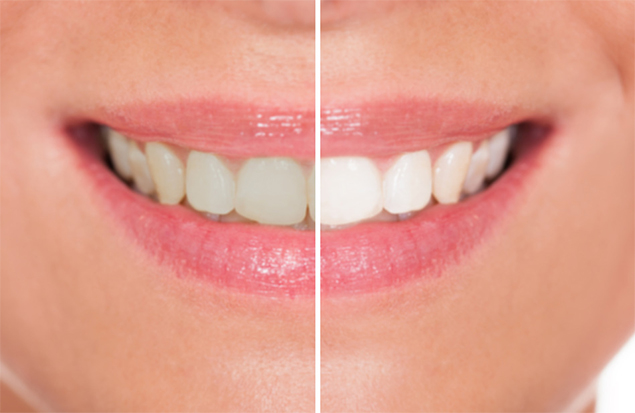 It's safe to say that healthy, white teeth and a dazzling smile are on top of everyone's dental wish list. How can you make that happen? There are several methods you can use – the one that's best for you depends upon your preferences, your time, and your budget.
Most whitening treatments use hydrogen peroxide or carbamide peroxide to clear away stains, the difference being in the concentrations of how the compound is used and how it's held against the teeth (and the cost, of course). Depending on the depth of the stains and your desired look, you could be happy with the results from whitening pastes, or you might need something a little – or substantially – stronger.  Let's take a look at the 5 best ways to whiten your teeth, starting with the least expensive.
1. Whitening Pastes (OTC & Homemade)
Take a look down the toothpaste aisle at your favorite grocery store and you'll see many types of whitening pastes. These pastes contain 1% to 1.5% concentrations of hydrogen peroxide, which will clean surface stains, but won't penetrate your tooth enamel.
You can even make your own whitening paste using a simple mixture of hydrogen peroxide and baking soda. Combine about two tablespoons of hydrogen peroxide with one tablespoon of baking soda. Stir it into a paste and start brushing. Let the paste stand about a minute and then rinse. Limit use of your paste to two or three times a week. Excessive use of baking soda can have the reverse effect of cleaning, breaking down your enamel over time and causing sensitivity in your teeth. So, make sure you maintain your regular oral care regimen.
As previously mentioned, they'll only clean surface stains and won't penetrate into the enamel. Unfortunately, that's where the deepest, most difficult-to-remove stains are found. So if your smile has accumulated an unwanted patina from coffee, red wine, cigarettes, or other tooth-staining culprits, you may want to consider more advanced treatments.
2. Whitening Strips
While over-the-counter options can be very effective if they're used as directed, because they contain 6% to 14% peroxide. Putting them on evenly and keeping them on for as long as recommended are key to getting the best results.  If the strips are applied incorrectly, you could end up with uneven whitening. Another possible issue with whitening strips are that they can irritate gums. Make sure you rinse and/or wipe away any residual gel after each treatment. If the irritation persists, consult your dentist.
3. Bleaching Trays
Bleaching trays are the next level in whitening treatments. Not a one-size-fits-all approach, your dentist will custom fit your mouth with a mold, then supply you with a take-home bleaching tray made from that mold and whitening gel for you to use at home.
The bleaching gel used in these dentist-supplied trays is usually carbamide peroxide. Carbamide peroxide has about 1/3 the strength of hydrogen peroxide. However, carbamide peroxide is more stable and yields better long-term results than hydrogen peroxide because the oxygen release is slower and more stable. Additionally, the custom tray ensures the gel is evenly applied for best results.
4. Dental (Zoom) Whitening
Looking for the maximum teeth-whitening impact in a minimum amount of time? Consider a Zoom Whitening treatment. During a Zoom treatment, a dentist or dental assistant applies a 25% hydrogen peroxide whitening gel, which works together with a specialized light to penetrate the teeth and break up the stains and discoloration. The gel remains in place for 15 minutes while the light is activated. The entire treatment consists of 3 15-minute sessions of light activation, for a total treatment time of 45 minutes. The results?Teeth that are up to 8 shades lighter in less than an hour!
Following the treatment, you'll be given a Zoom home-use touch-up kit that includes custom-fitted whitening trays to help keep your smile looking great.
5. Veneers
For teeth that resist other whitening methods, porcelain veneers can provide a beautiful, bright smile, along with other benefits. Porcelain veneers are thin pieces of porcelain used to recreate the natural look of teeth, while also providing strength and resilience comparable to natural tooth enamel. It is the material of choice for those looking to make slight position alterations, or to change tooth shape, size, and/or color. To apply a veneer, a very small amount of the original tooth enamel must be removed, usually less than a millimeter. Light-sensitive resin is placed between the original tooth and the veneer and then hardened using a special curing light.
Veneers are durable, and – unlike natural teeth – they resist food and cigarette stains. But they can be damaged by excessive chewing forces like nail biting, chewing ice, or grinding your teeth. You can expect veneers to last an average of 10 years.
Remember, no whitening treatment is a replacement for good dental hygiene and preventive dental care. Brush and floss daily, eat healthy, and visit your dentist twice a year. Keep your teeth white by avoiding minimizing contact with stain-causing foods
Contact Walbridge Dental
Want to know more about teeth whitening methods and find out the best one for you? The professionals at Walbridge Dental have the answers. From routine cleaning and exams to advanced restorative treatments, we offer complete family dental care to families in the Millbury community. Contact us online to set up an appointment now or call us at 419-836-1033.
Connect on Social Media!